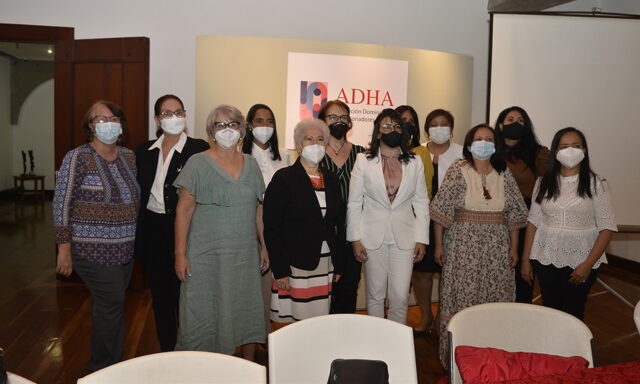 The Dominican Republic has a group of professionals specializing in art history, who, along with other foreign specialists, have established the Dominican Association of Art Historians (ADHA), many of whom are based on Dominican territory. This non-profit organization, headed by art historian Paula Gómez, seeks to stimulate the study of the phenomena of Dominican art history and the cultural heritage of the nation. To do this, they have a wide range of projects and activities related to training and dissemination of art history, such as art consultancy, collection cataloging, and research, among other activities in their profession.
How did the idea of ​​establishing this association arise and what are its objectives?
Some time ago, we had the idea of ​​assembling art historians, both Dominican and foreign, residing in the country into a non-profit professional association. It happened in May 2020, so that the meeting of dozens of trained professionals in this field of knowledge comes at an opportune time to promote study, analysis and technical research in the country. The objective of ADHA is to enhance the professionalism of art historians in the exercise of their activity in the Dominican Republic and the world, and at the same time, to create an interdisciplinary network of professionals in art history and related disciplines.
Who is ADHA made of and what are their functions?
ADHA is made up of 23 founding members who specialize in art history. Currently as President, I am accompanied by Sarah Hermann, Vice President. Isabel Serrano, secretary; Miguel Liz, Treasurer, Elena Litvinenko, Laura Gill and Lilian Carrasco, members. We are professionals who specialize in teaching, research, art criticism, curator, and Museography, among other activities in our profession. Among the founding members of the French Dominican Abigail Labin. Venezuelan Aurora Martinez; Dominican-American Angela Garcia; Cuban Dominicans Elvia Ojeda, Maria Antonita Urquiza, Maria Valls and Isabel Serrano, the latter were part of the board of directors. As well as Frenchman Patrick Landry, and, as part of the directing, Russian Dominican Elena Litvinenko. In addition to this, the Dominicans Gustavo Perez, Gala Mayi, Clara Silvestre, Evelyn Lima, Flareda Gonzalez, Killa Francisco, Nadia Lugo, Maria Elena Detren, Maria Isabel Martinez and Myrna Guerrero.
Does the association cooperate with similar institutions?
Yes sure. Currently, they are the Bellapart Museum, the nation's public archive, and the TEP of PUCMM and ArtSpacedr. In the summer we will start an internship program and visits to museums in the country and have support from the Bellapart Museum, Bannerservas Cultural Center and the La Vega Museums.
What are the specific narratives of art history?
Since the nineteenth century in Dominican art, the styles that characterize the art history of that period have been worked on; The subjects were varied, mostly relating to landscapes, portraiture, and social events, among others. Contemporary art has a variety of trends and innovation, and some artists maintain influences from the European avant-garde of the 20th century, while others have turned to the tools provided by science and technology. Currently, we see new media art, installations, where a wonderful world of sounds, lights and shapes lend works of expression and beauty. Abstract and figurative art with themes of gender and social disapproval is still present in national art.
What does art history studies include?
These studies allow a tour of all cultural manifestations since prehistoric times, after ancient civilizations and their contributions to humanity. Likewise, the chronology extends from the Middle Ages to the present. Periods, patterns, movements, and trends are studied and the lives and work of world art geniuses are analyzed, delving into the interpretation of the timeless works that mark art history. This major is supplemented by aesthetics, archaeology, basics of form, and psychology, among others.
What correct methods do art historians use in their research and on the nature and history of works of art?
Research methodology is a discipline in itself, from which each art historian takes what is necessary to guide their research. It will depend on the type of study being developed, so inductive and deductive methods can intervene. Observation, interviews, and documentary analysis, among others, may be used. I repeat, everything will depend on the goals of each specialist.
What projects have they promoted and which projects do they have to implement?
In December 2021 we launched our guidance and many of the projects we've been working on for the year, including the lines of research each founding member is working on. We signed an agreement with Pontificia Universidad Católica Madre y Maestra as academic endorsement for our Diploma in Modern and Contemporary Art, which began at the beginning of May. In March, we appointed Maria Ugarte and Danilo de los Santos as honorary members of ADHA for their valuable contributions to Dominican art history. We also document our files and deliver cards to founding members.
How do you see the future of ADHA?
We hope that more young Dominicans will be interested in studying art history. We are building a support platform for these professionals and related fields with the aim of contributing to research and knowledge of Dominican art. We want ADHA to grow in number and professionally qualify new members in the future.
destination
Our aim is to enhance the professionalism of art historians in the exercise of their activity in the country and the world."
wish
We want the association to grow in number and professional qualification of future new professionals in art history."